Matt Cole is a technical and paranormal writer. He is best known for the Utilizing technical book series. These include 'Utilizing IFTTT", Utilizing Google Docs", and Utilizing RPG Maker". He prefers open source or free applications over proprietary software.
He recently created his first novel, "Sight and Sound" and working on the stand-alone "Trauma".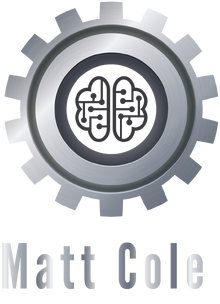 Matt Cole is a husband, father, son, brother and avid researcher. When not working, he attempts to share knowledge/content through stories and articles.
Find out more at http://author.mattcole.us/index.php/about-matt-cole/
You can follow Matt by:
Website: http://author.mattcole.us/
Steemit: https://steemit.com/@authormattcole
Instagram: https://www.instagram.com/authormattcole/
Facebook Page: https://www.facebook.com/AuthorMattCole
Amazon: https://www.amazon.com/Matt-Cole/e/B01AU7SOI2/ref=sr_ntt_srch_lnk_1?qid=1502205971&sr=8-1
To learn upcoming events and what he is working on check these out:
http://author.mattcole.us/index.php/upcoming-events/
Offline life
Edit
Matt Cole was born in Poteau, Oklahoma. He works full time as an Application Analyst II for Universal Health Services (UHS). He has been a remote employee for the last 17+ years for UHS.
Married for 22 years to the same woman, he has two children and currently resides in Oklahoma.
You can keep up with his events as well as his current projects.
Notable Works
Edit
Below are his current available books.
Title
Type
Genre
Description
Sight and Sound
Novel
Paranormal/Technology
Two boys with differing lives and abilities are pushed into a war of interdimensional beings.
Utilizing IFTTT
Technology

How To

Technology
The purpose of this book is to introduce you into the free web-based IFTTT application.
Utilizing RPG Maker
Technology

How to

Technology
The purpose of this book is to introduce you to the RPG Maker VX Ace Lite application and how to create electronically

RPG (Role Playing) games.

Utilizing Google Docs
Technology How to
Technology
The purpose of this book is to introduce you to Google's free alternative business apps as opposed to Microsoft Office.
All works by Matt Cole are licensed as CC-BY-SA. Queries about derivative works can be forwarded to authormattcole@gmail.com. Matt can also be reached via the following:
Ad blocker interference detected!
Wikia is a free-to-use site that makes money from advertising. We have a modified experience for viewers using ad blockers

Wikia is not accessible if you've made further modifications. Remove the custom ad blocker rule(s) and the page will load as expected.